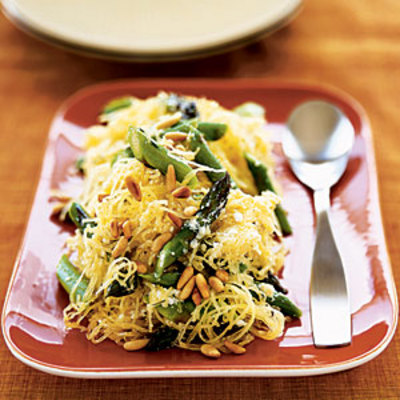 Pumpkin is all the rage right now with orange recipes popping up everywhere (like these Pumpkin Chocolate Chip Cookies), but here's a different seasonal squash to try that is just as versatile.
Spaghetti squash a mild-flavored, yellow squash that separates into spaghetti-like strands when you cook it and run a fork through it. It's a great substitute for pasta! Spaghetti squash is a Superfood that contains lots of nutrients, including folic acid, potassium, vitamin A, and vitamin C, and it's low in calories with about 42 calories per serving. Don't know how to cook spaghetti squash? Here's a helpful tutorial.
Spaghetti Squash Pad Thai
My favorite spaghetti squash recipe comes from a cookbook called Well Fed. It replaces the rice noodles with spaghetti squash and the soy sauce with a "Sunshine Sauce," both of which will make you feel good about eating this spicy, creamy, and comforting dish. It has just fraction of the calories and fat compared to the original.
01/11/2012 : By Tina Haupert / Health Magazine.