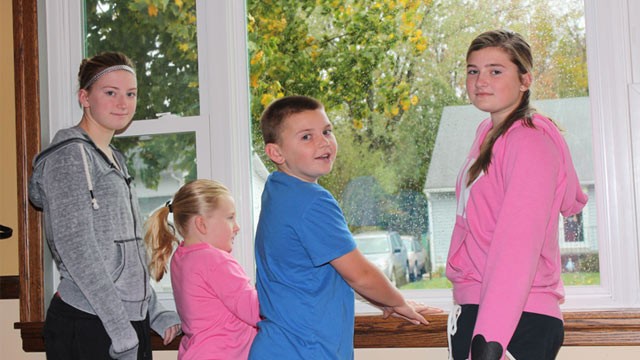 Image : Kelly Salus
New York area families who were slammed by last year's Hurricane Irene are girding for a storm that promises to hit even harder. Still hours away from the worst of Hurricane Sandy, those who are in its path are in a state of high anxiety, holding their collective breath.
Kelly Salus, a 42-year-old mother of four from suburban New Jersey, has barely recovered from the hurricane last August, which left seven feet of water in her house. She and her husband were taken to dry land by boat.
It was there at the Pompton Lakes fire house Sunday where Gov. Chris Christie declared a state of emergency and ordered evacuations of the state's barrier islands and Atlantic City casinos.
ABC News to Broadcast Special Expanded One-Hour Editions of "World News with Diane Sawyer" and "Nightline" Dedicated to Storm Coverage
The governor has predicted that residents could be out of power for up to a week after Sandy, now a category 2 hurricane, hits land later tonight.
The town's residents were asked to voluntarily evacuate because of power lines so close to houses, but Salus said, "I don't know where we would go with no family close by."
The special needs teacher and her four children, aged 4 to 17, are homebound today with all schools closed in New Jersey.
Last year, she and her husband, who is in pharmaceutical sales, had no flood insurance because they don't live in a flood zone. They got help from FEMA, but were out of pocket more than $25,000 when flood waters filled their house, destroying the furnace, washer and dryer and most of their finished basement.
While cleaning out the basement in preparation for Hurricane Irene, Salus reached for a cast-iron roasting pan that landed on her head, breaking her nose and giving her a concussion.
"It was on a top shelf and I reached for it and it fell on me and knocked me out," she said. "I had two black eyes and I was starting a new job – I looked like mess, like someone had beat me up."
30/10/2012 : By SUSAN DONALDSON JAMES / ABC NEWS.